In a nutshell, you don't. If like most Australians you only have the Big Lap on your bucket list, there are chances that you may never step off-road. National Highway 1 runs around the whole country connecting every mainland state capital and is sealed virtually all the way covering 15,823 kms (Some websites estimate the distance at 14,935 kms). It is one of the longest roads in the world and doing the Big Lap ensures you have covered the entire of Australia without getting your tyres dirty.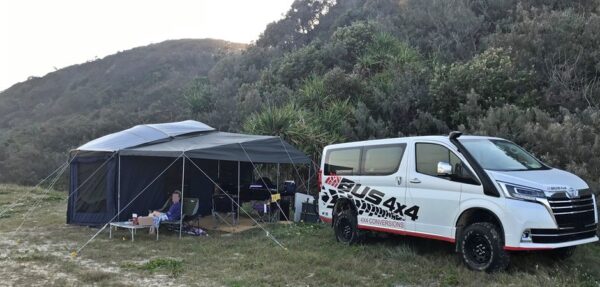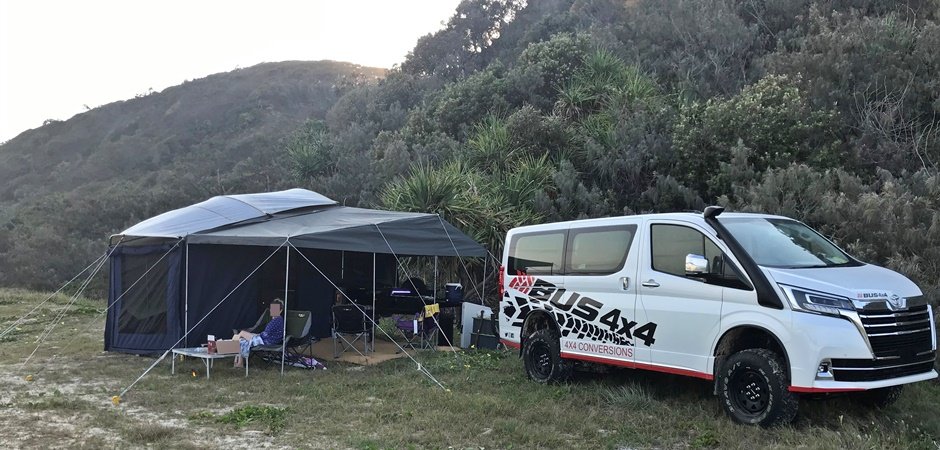 However, unlike most grey nomads in shiny RVs or backpackers in beaten vans, if you want to take in what Australia offers beyond the towns and the cities, you need a 4×4. If the thought of Canning Stock Route, the Gibb River Road, Gunbarrel Highway or the Outback Way gets your adrenaline pumping, then you most certainly need a 4×4 campervan or motorhome.
Imagine missing out on Jim Jim Falls when visiting Kakadu National Park just because you did not have a 4×4? Not being able to see the Garig Gunak Barlu National Park on the Cobourg Peninsula when you travel across Arnhem Land? There are a thousand other places that a 4×4 can get you away from the crowd and the hustle bustle of tourist destinations.
A 4×4 campervan or motorhome requires a significant investment in money, so we have compiled 5 important questions to ask yourself before you start or transition your journey into the 4×4 dream.
Download our FREE "Live the Outback Dream" e-book here
What size do you need?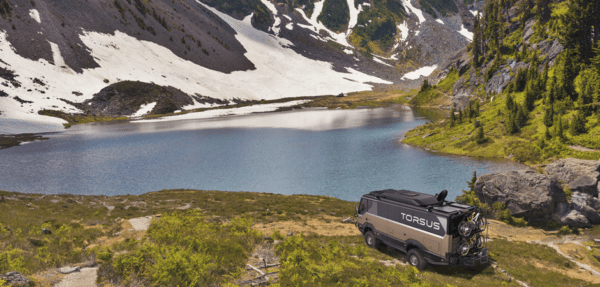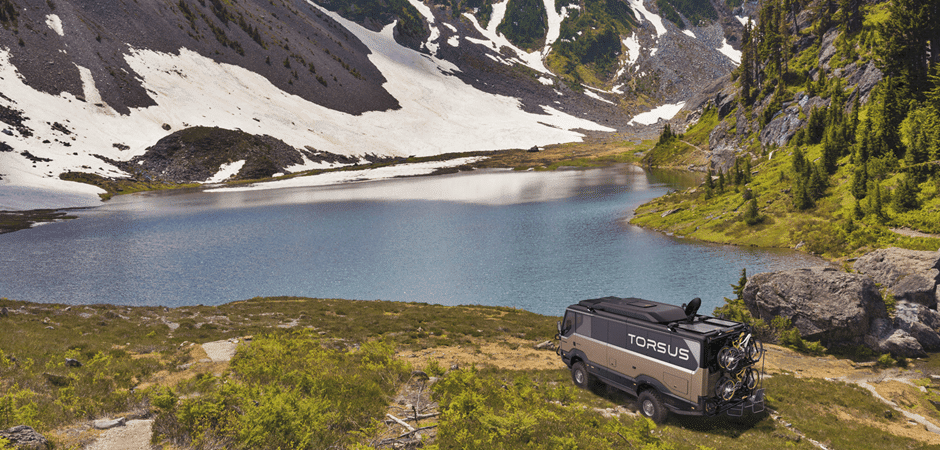 If you like watching videos on YouTube, you would have come across huge 4×4 motorhomes crossing the Sahara, Gobi Desert or South America. These are usually built on large truck chassis and look like a small house on wheels. While size is not a critical requirement in Australia, a few questions you might ask before you start researching are:
Do you want to drive on a car licence? Note that a car licence requires you to drive a vehicle under 4.5 tonnes
Do you plan to use your campervan or motorhome for weekday driving? Note that most large motorhomes don't fit into average car
parks, under low bridges or roof enclosures in Australia
Will you be travelling with more than 1 person? Note that the largest space inside a campervan or motorhome is the sleeping area. Having more than 2 people would mean ditching the standard double into space saving bunk beds which are not an ideal situation for long term travel
How much off-road do you want to go?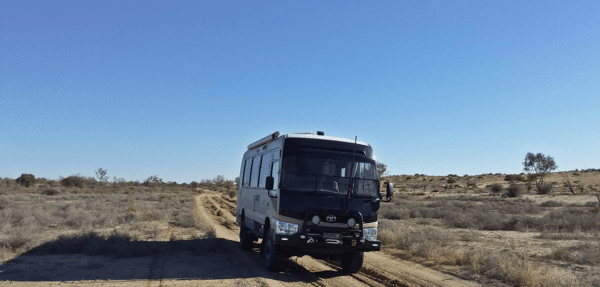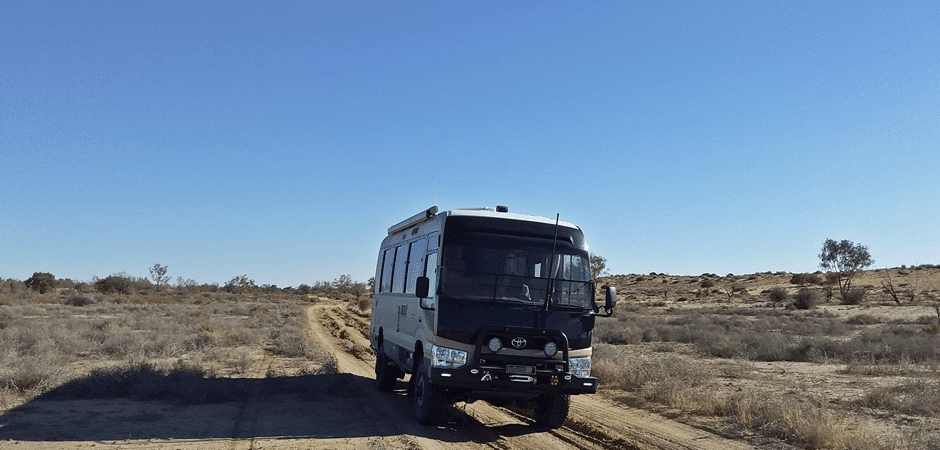 Even with 4×4, your campervan or motorhome may not be suitable for all tracks which can be too narrow, too steep or too sandy. You would also need to consider some issues such as the weight, length, height, approach / departure angle and ground clearance before you venture into tracks which are meant only for smaller 4×4 passenger vehicles. Fitting a rear diff lock will give more traction while super single tyres can give wider tread but it's a good practice to know the limits of your vehicle before you venture into uncharted territory.
Do you want to go free camping?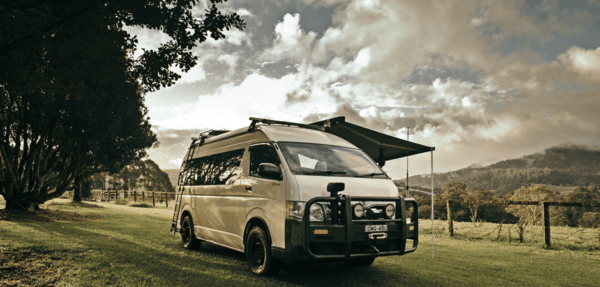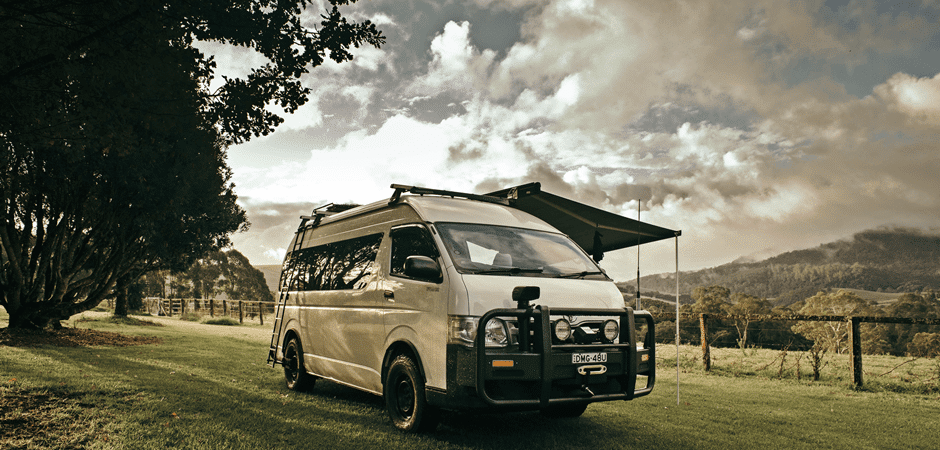 The advantage of a 4×4 campervan or motorhome is you can avoid overpriced caravan parks for camping. An average motorhome should accommodate a standard living/sleeping space, kitchen and shower/toilet. For free camping, you would need a decent powered battery system (Preferably lithium) connected to solar panels and a generator (for extreme weather conditions). Staying off grid would also mean adequate water and fuel, so large water tanks and additional fuel tank are essential. In addition, you will also need to store at least one or two spare off-road tyres. You now get the picture!
Figuring out how you want to use your 4×4 campervan or motorhome is critical when planning your fitout.
Do you prefer a hard-top or pop-top?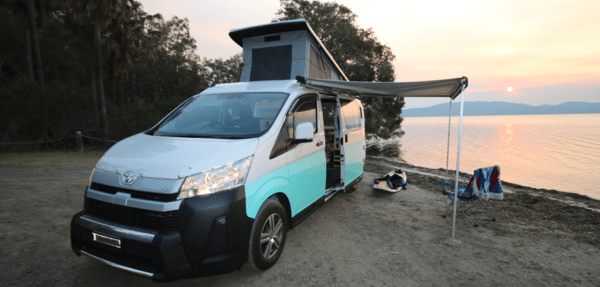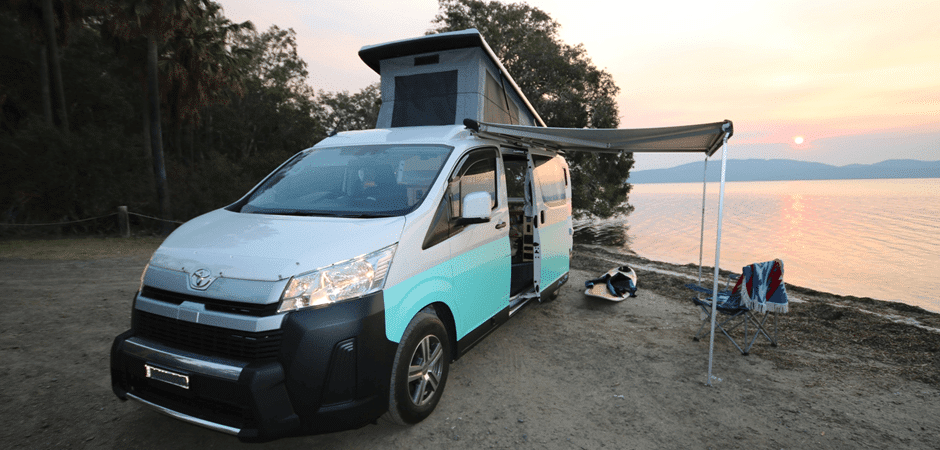 This relates only to a 4×4 campervan. Pop-top campervans offer extra height when required and can be taken down when not. They also create an airy, pleasant ambience when raised. However, the downside is they can be a potential issue in dusty country or when it rains.
A hard-top roof stops leaks and is dust and waterproof, but you will have to keep an eye for low hung branches or underground parking, which is not an option most of the time.
And finally, do you want to buy new or used?
Used 4×4 campervans or motorhomes can be cheaper and affordable, but they are far and few in between. Also, they tend to be mostly DIY on 4×4 trucks which means you would be paying for poor workmanship, cramped quarters and the thought of living in someone else's house.
On the other hand, a new 4×4 campervan or motorhome can be built from scratch but it comes with a high price tag. The advantages are in knowing what exactly will go into the build, warranty and designing the layout to fit your lifestyle.
Bus 4×4 gives you a few vehicle options to base your campervan or motorhome conversions.
With a 4×4 conversion, the first option would be to either source a new 2WD Hiace/Coaster or a quality used 2WD Hiace/Coaster. In both cases, you will get our famous AWD Conversion Kit installed with a 1-year warranty. The other choice would be to buy an already converted used Bus 4×4 Hiace or Coaster (Which we sell time to time).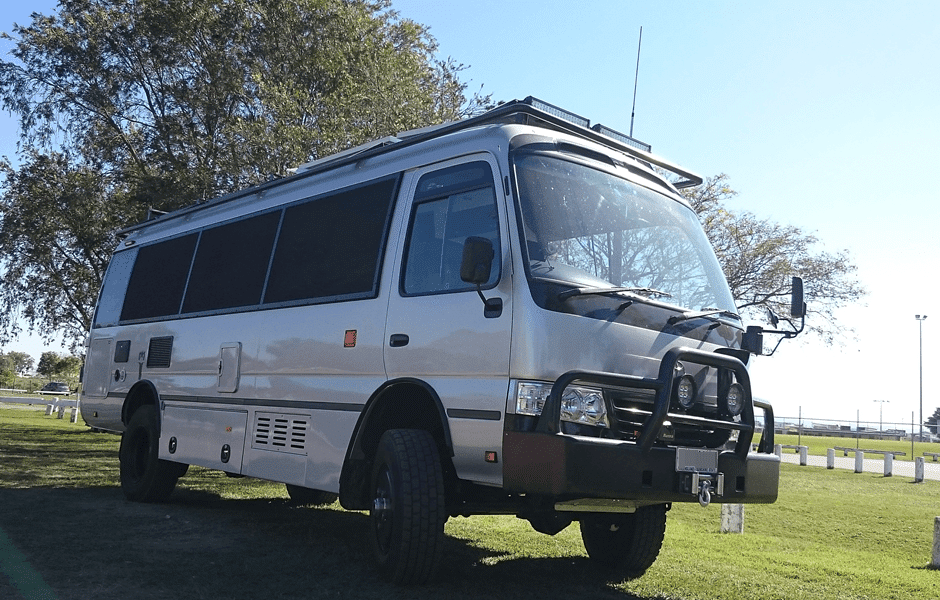 Read Allan Whiting's review on Bus 4×4 Motorhome Conversion of Coaster here.
The second option is to build a single walkthrough body shell on a 4×4 truck like the Iveco Daily or a fully integrated motorhome shell like the Torsus (Which is built on MAN). This gives you the benefit of having an original 4×4 drive train from the manufacturer.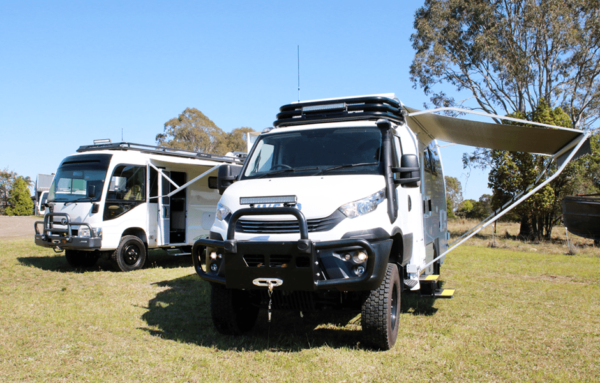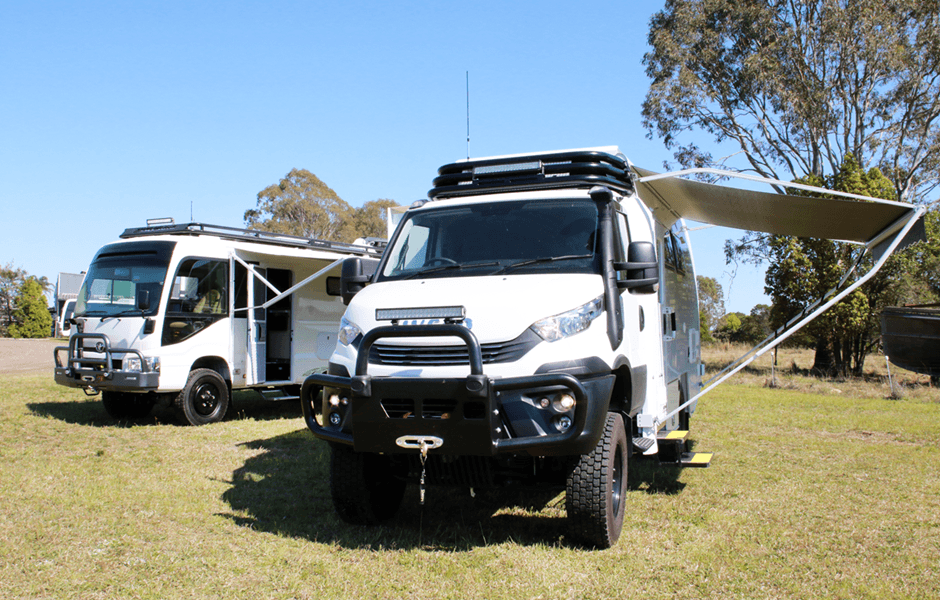 Our vehicle conversions are built on a proven and reliable Toyota platform with superior 4×4 capabilities to other makes. Our motorhome shells are based on our long history of bus and coach builds across Toyota, Isuzu and Iveco. We also offer a wide range of optional extras and customisation and finally they are much cheaper than buying a 4×4 passenger vehicle with an off-road caravan.
Please note that Bus 4×4 does not build internal fitouts. While we can help to plan the internal layout, we can recommend a couple of interior fitout specialists like East Coaster RV or Jacana Motorhomes who will work with you directly to ensure you get the build as per the finalised layout.
Having a 4×4 campervan or motorhome is a great way to live the outback dream. So, if you are thinking of taking the road less travelled by, give us a call and get ready for a bigger adventure.
Call us on +61 7 3276 1420 or email us to discuss the options that can suit you to live the outback dream!