Toyota Coaster is one of the world's most popular people movers in the minibus category, sold in more than 110 countries. The Coaster was first launched in Japan in 1963 as the 'Light Bus' based on the running gear of the Toyota Dyna and launched into Australia in 1977. Since then, it has become one of the most popular buses used by schools, fleets, and tour companies and not surprisingly, a sought after vehicle for motorhome conversions.
The current 70 Series Coaster is the 4th generation launched by Toyota in 2017 after 24 years. As per Toyota, 550,000 Coasters have been sold globally of which over 20,000 Coasters have been sold in Australia (2017 data supplied by Toyota Australia).
The 70 Series Coaster in Australia is available as a 22 seat bus with a 4-litre, 4-cylinder turbo diesel engine and 6 speed transmission. The 6 speed was upgraded from a 4 speed in early 2021 along with vehicle stability control. The post-2017 model has retained the same length as the 50 Series at 6990mm, but the internal height has increased to 1.89mts with a squarer shape that provides better space for storage and passengers.
The Coaster is available in a standard model with bi-folding door or the deluxe model with slug door. The deluxe model has the black fascia extending below the front windscreen giving it a more pleasing face.
Why Bus 4×4 Conversion?
The Coaster is only available in Australia as a rear-wheel drive. While the 2WD is good for city routes or for driving on the bitumen, it limits the bus for outback transport over rough terrain. The AWD and the 4WD version is available in Japan and is imported in very small quantities by grey importers but there have been concerns about servicing or spare parts. The best option suited for Australian conditions is the Bus 4×4 Conversion which converts the Coaster from a 2WD into an off-road capable 4WD with High and Low Range 4×4. This 4×4 conversion opens new and exciting possibilities for mining, off-road tour operators, remote transport, and aboriginal associations and of course, motorhome enthusiasts.
The Bus 4×4 conversion can be done on both new and used Coasters. A 4×4 conversion of a new Coaster falls under the SSM IPA Compliance (Secondary Stage Manufacture – Identification Plate Approval) while the 4×4 conversion of a used Coaster is done under Blue Plate Compliance (Qld for Bus 4×4). This includes adding a lift-kit to the independent front suspension and the rear spring suspension, raising the body to 210mm over the factory standard. A Toyota Coaster differential is added up front getting its drive from an AWD transfer case making it a constant full time 4×4 without the need to lock/unlock free-wheeling hubs for off road driving.
Bus 4×4 upgrades the standard ventilated disc brakes to accommodate the front drive axles and at the rear the drive axle is slung under the upgraded leaf-spring pack. The upgraded tyres are 9.5R 17.5 which are retained on standard wheels while super-single tyres of size 285/70R 19.5 are optional which can increase the ground clearance to a whopping 230mm.
Since the Coaster is ANCAP rated, it can be used without the need for ROPS (Rollover Protection Cage) on mine sites that have strict safety requirements. We offer optional downgrade from 22 seats to 18 seats with internal storage and can also offer front passenger swivel seat for guided tours or mine site briefings. Other accessories like bull bars, tow bars, electric steps, fuel tank (180 litres), seat belt alarm systems, beacon and lighting are also offered based on site specific requirements.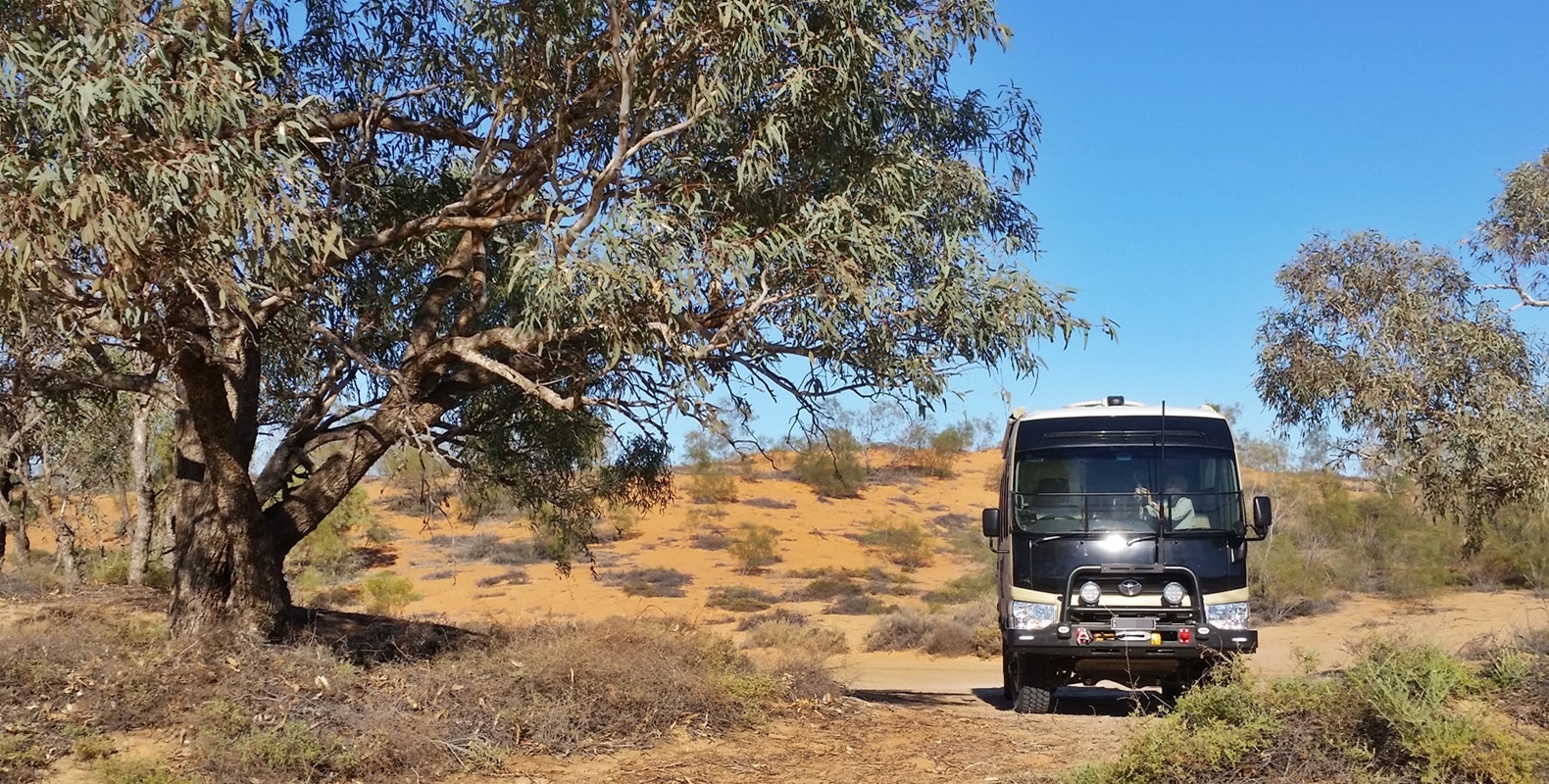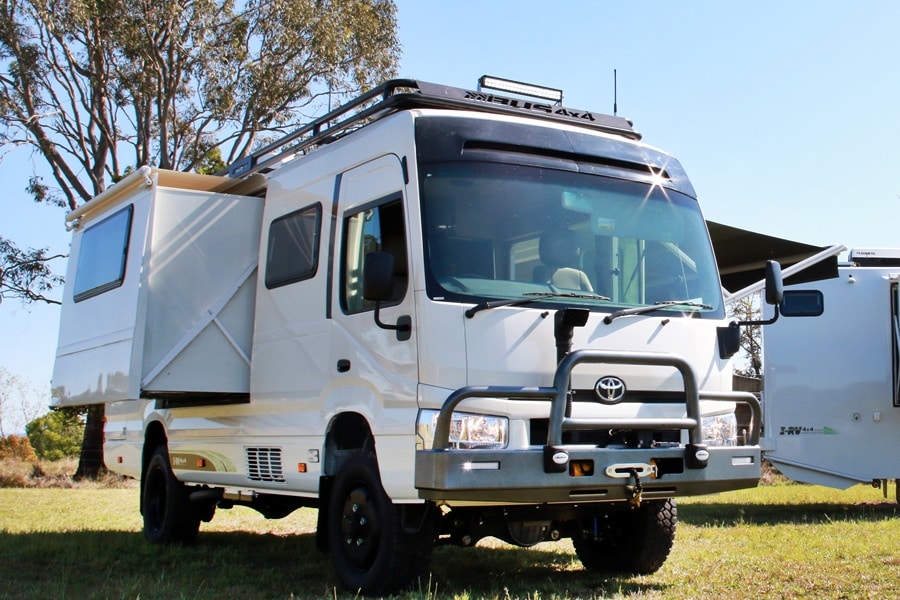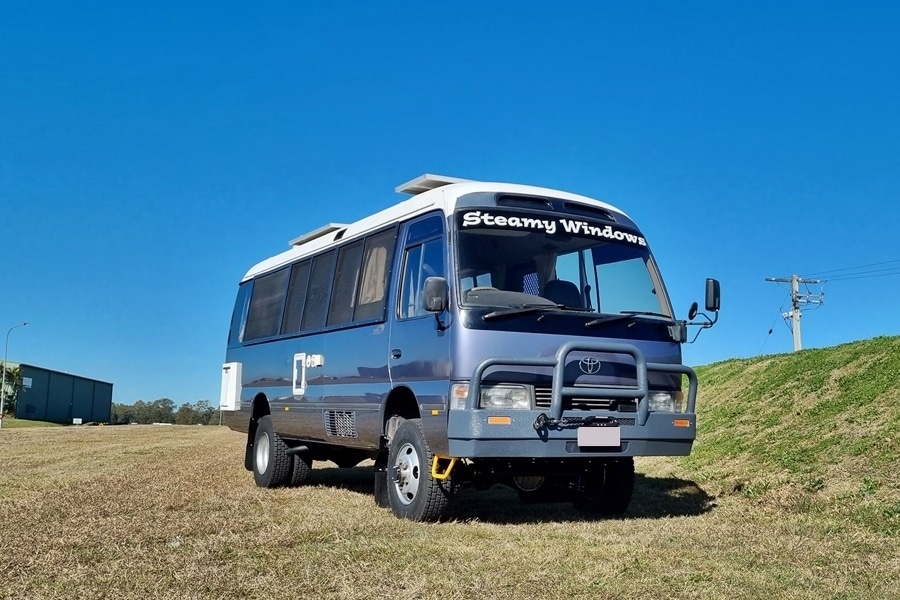 4×4 Motorhome anyone?
Toyota Coaster is Australia's most popular choice when it comes to motorhome conversions. No other bus ticks all the boxes with an ideal length, internal height, walkthrough layout and spacious interior that can accommodate a double bed, full kitchen, shower/toilet, and a front lounge. Include the time proven Hino N04C engine which produces 110kW at 2700rpm and you have a powerful vehicle that can travel around Australia with ease.
The Bus 4×4 Conversion of Toyota Coaster with a motorhome fitout can be an ideal vehicle to take you anywhere on and off-road, from the rugged outback to glittering beaches. The Bus 4×4 Coaster Conversion comes with an increased GVM of 6 tonnes (new vehicles), but tow capacity has been retained at the original 1.7-tonne rating. We can also fit a No Spin Diff on the rear with a breather kit for that extra peace of mind when crossing creeks.
Toyota Coaster VS Mitsubishi Rosa (2021 Models)
| | | |
| --- | --- | --- |
| | Toyota Coaster | Mitsubishi Rosa |
| Size | 6990mm L, 2080mm W, 2635mm H* | 6990-7730mm L, 2070mm W, 2755mm H |
| Wheelbase | 3935mm | 3995-4550mm |
| Engine | Hino 4 Cylinder 4.0L | Mitsubishi 4 Cylinder 3.0L |
| Power/Torque | 110kW/420Nm | 129kW/430Nm |
| Fuel Tank | 95 Litres** | 100 Litres |
| Tyres | 250/70R 17.5*** | 205/85R16, LT 117/115L |
| Passengers | 21 + Driver | 21/24 + Driver |
| GVM | 5540 Kgs**** | 5900 Kgs |
| 4×4 Conversion | Yes | No |
* Over 3 mts subject to tyres and roof modifications after 4×4 Conversion
** 180 Litres Upgraded Fuel Tank
*** 9.5R 17.5 on Standard Rims or 285/70R 19.5 on Super-single Rims
**** 6050 Kgs after 4×4 Conversion
Covid-19 has increased the demand for domestic travel and people are trying to travel to places they have not been before, so the Bus 4×4 Conversion of Coaster can be an ideal 4×4 motorhome option which gives the freedom to set camp anywhere.
With Toyota reliability and Bus 4×4 capability, is the Bus 4×4 Conversion of Coaster for you?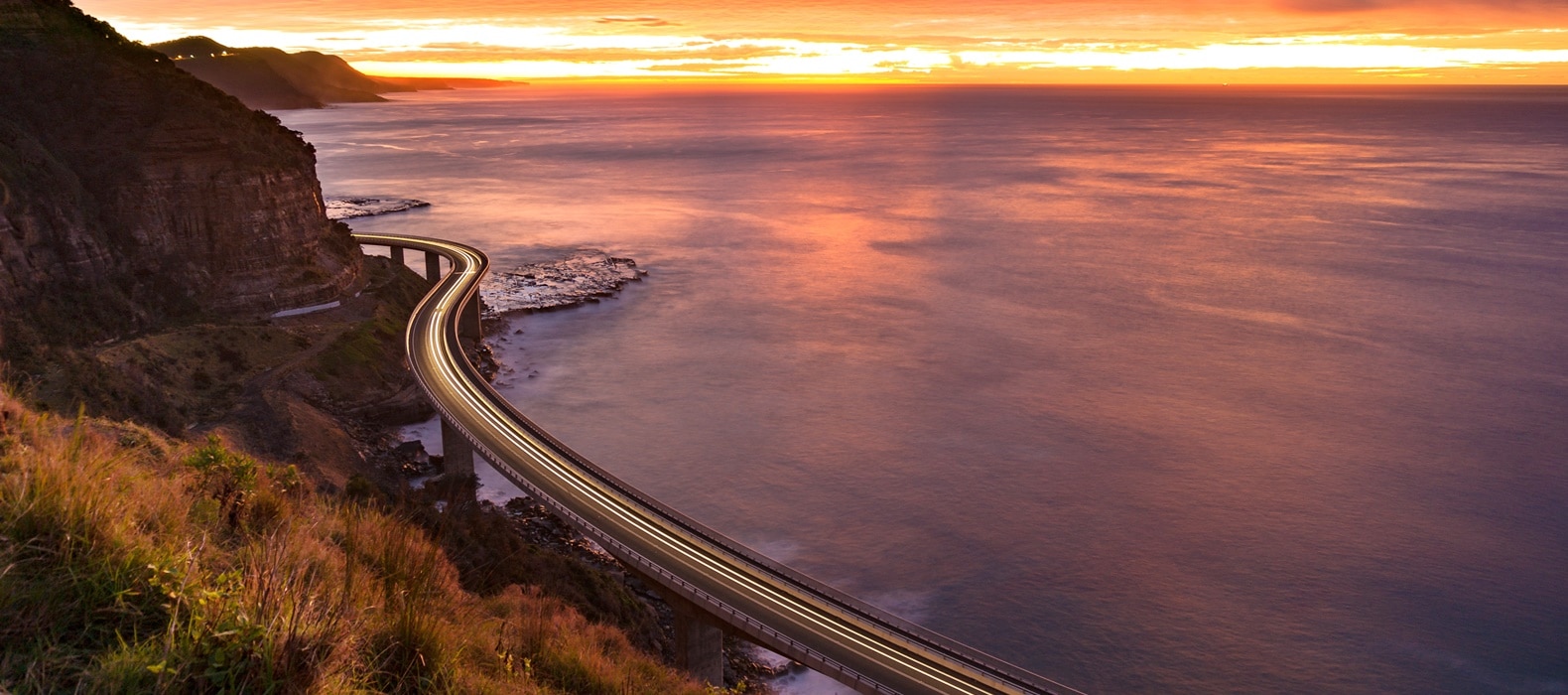 If you are looking for a Bus 4×4 Conversion of Coaster, please click here to email us or call us on 07 3276 1420.
For a list of our distributors in Australia and overseas, click here.
To know more about our 4×4 Conversions, click here.
For the full specifications of Toyota Coaster, click to visit the Toyota Australia website here.