Driving on the beach? There is no amazing feeling than driving on a deserted beach with the wind ruffling your hair. With so many pictures on social media, sand driving looks quite easy, and you may feel nothing could stop you until you bog your vehicle. Everything amazing could turn into a nightmare in one instant.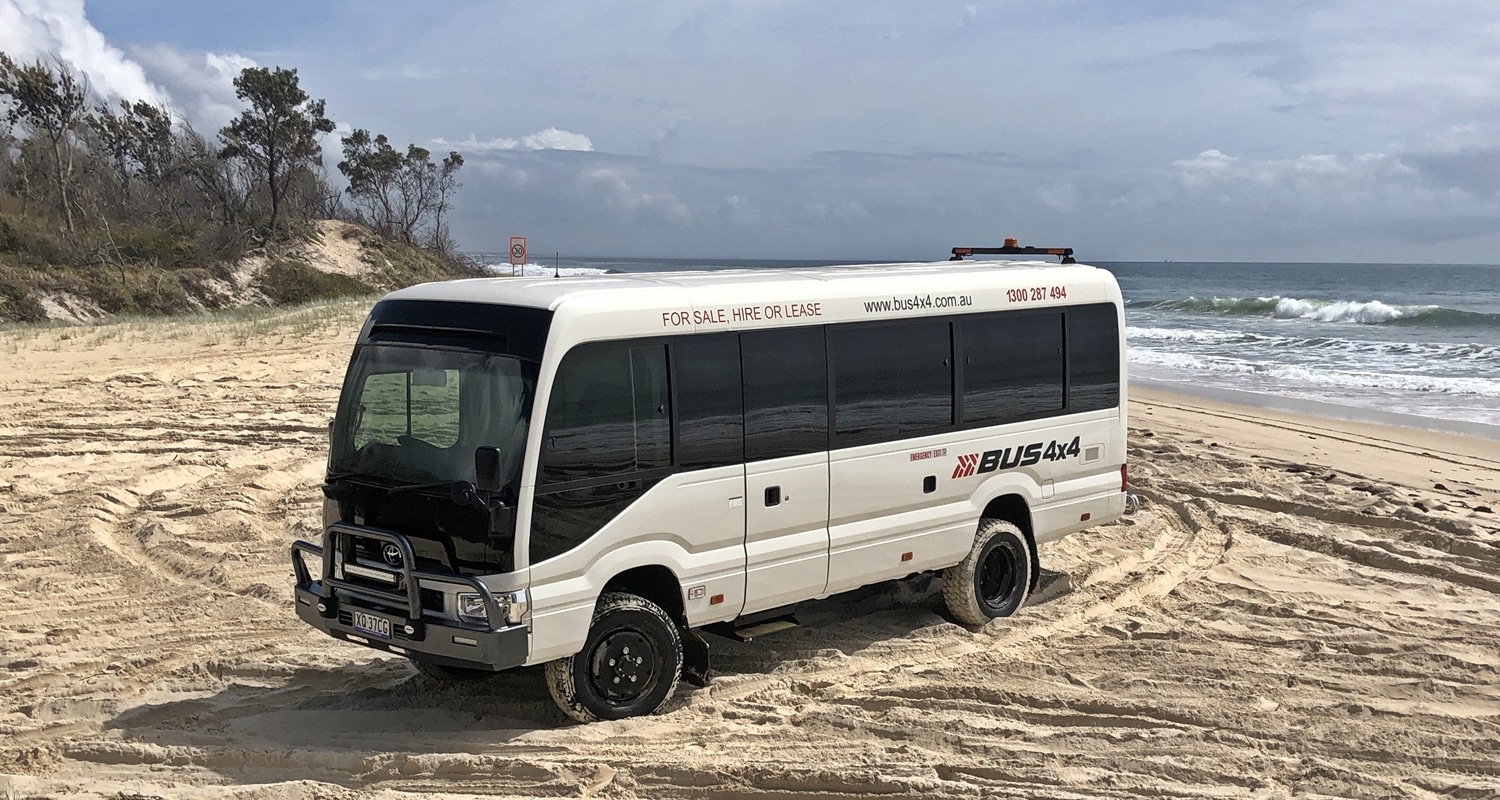 However, the truth is, it is not hard to drive on the sand. Yes, sand is inconsistent, and it is easy as well as hard to drive on. You would have come across social media pages that show pictures of bogged 4×4's but with good preparation and some common sense, you should be able to come out on top.
Follow the below tips to ensure your sand driving can be enjoyable:
Ensure your vehicle is 4WD off-road capable
This means a proper 4×4, not an AWD with no high or low range.
Lower your tyre pressure
One of the most important beach driving tips: when driving on sand, the first thing you need to do is let the air out of your tyres. Do not ever drive on a beach with more than 20psi in your tyres. Carry a tyre gauge and a portable air compressor is invaluable.
Avoid the water
As far as possible avoid driving in salt water, not just because it is bad for your vehicle, but because you can get caught in rips, low spots under the sea, etc.
Be aware of the tides
It is very important to know the tide patterns, so you do not get caught with the incoming tide. Use an app like Willy Weather which is excellent for tide information, as well as weather radar and UV levels.
Be prepared to get bogged
Eventually, you are going to get bogged, so pack enough recovery gear including a shovel, tracks, snatch kit, gloves, hooks, etc. If bogged, try to reverse out first.
Drive in the ruts
Try driving in the tracks left by other vehicles in front of you. Do not fight your steering wheel as you are cruising in a rut, just try to gently guide it.
Maintain a steady speed
Keep a slow steady speed and drive with enough momentum to keep the tyres cruising on top of the sand.
Obey the road rules
In Queensland, beaches are patrolled and should be treated like a road with all normal road rules. Stick to the speed limits, keep to the left, and always wear your seatbelt.
Take a course
If you are not confident of tackling extreme sand tracks like Fraser Island or Stockton Beach, enrol in a beach driving course. There are many 4WD schools who offer one-day courses where you will learn how to drive and recover in sand.
Beach Driving in Australia
Australia has over 10,000 amazing beaches, some of them which are the best in the world. Now that we have read the basics of beach driving, check the Top 10 4WD Beaches (in no order) to get you started on a sand-riding journey.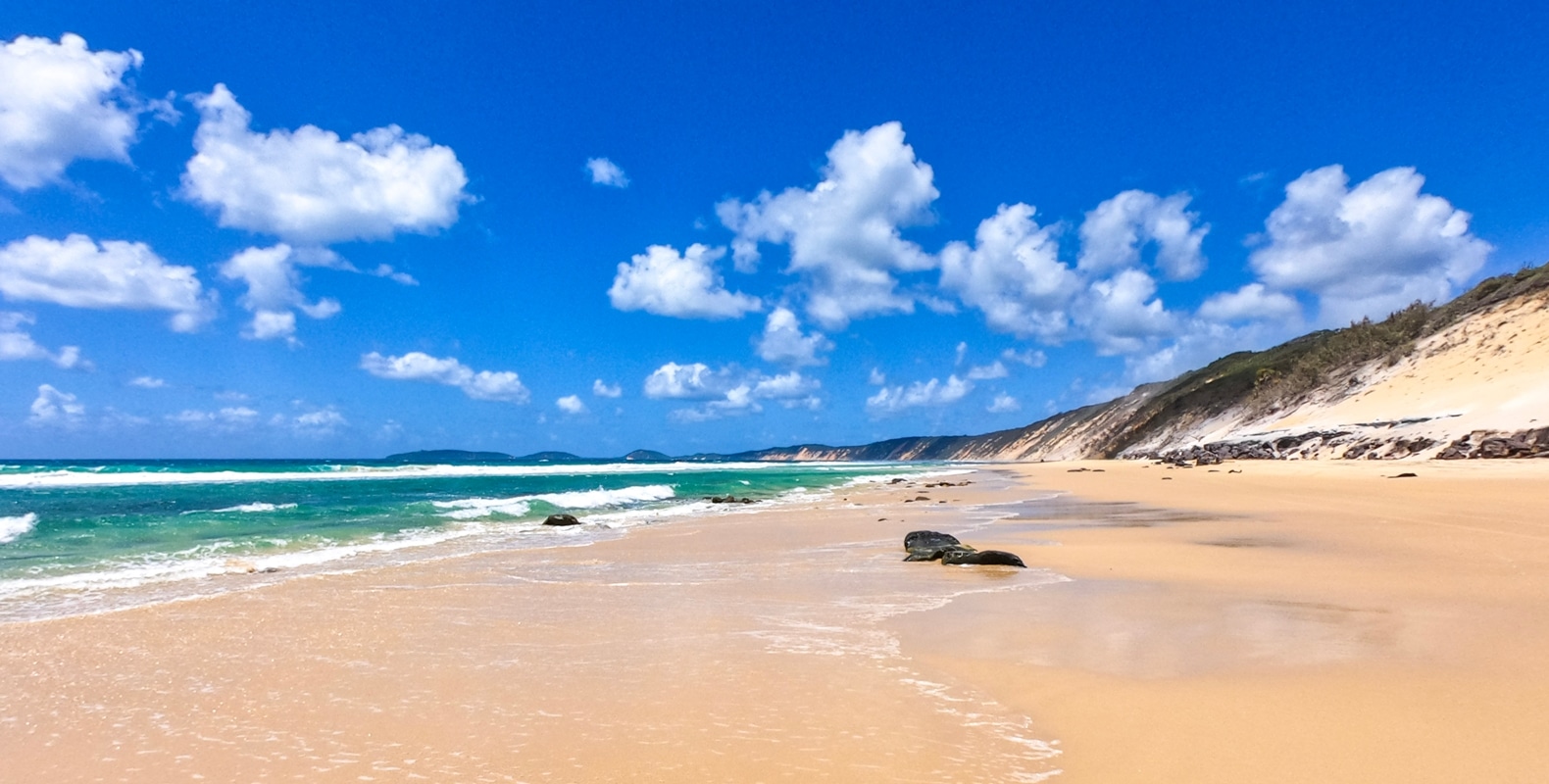 Queensland has some of the most amazing beaches in Australia and features many on any list of "great ocean roads". The sensational 200 kilometres of sandy highway which is called the Great Beach Drive stretches from Noosa's north shore (via the ferry at Tewantin) along Rainbow Beach to the northern tip of Fraser Island (via the barge at Inskip Point). Fraser Island is in a class of its own, with sandy tracks that wind through the World Heritage-listed rainforest to the 130km-long beach track that extends almost the entire length of the island. If accessing Fraser Island from Hervey Bay, you also can hire a 4WD with a crash driving course included in the rental package.
Check Queensland Tourism's Fraser Coast website for a full experience of the Fraser Coast.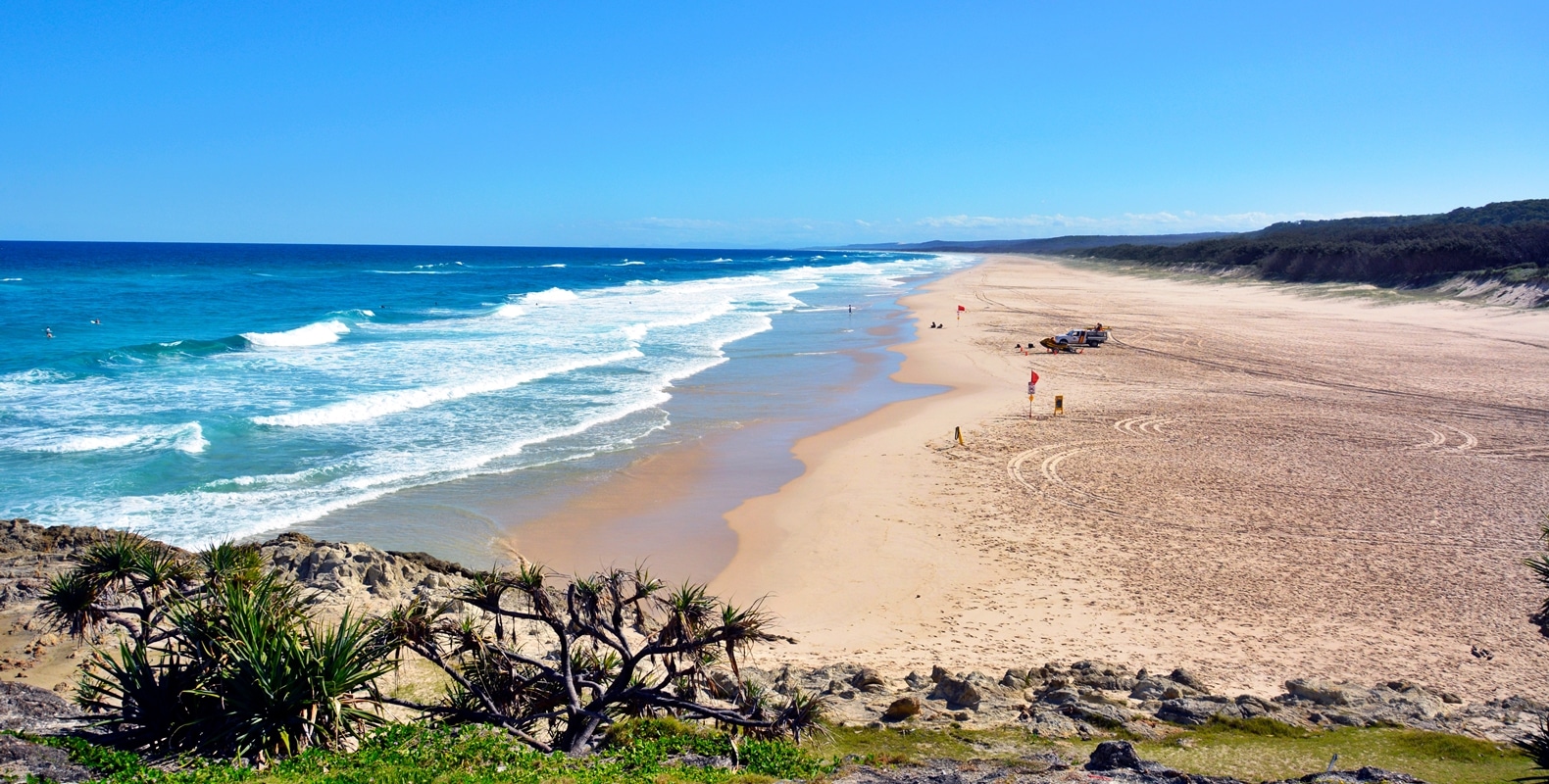 Stradbroke or Straddie as it is called by the locals is the world's second largest sand island (after Fraser Island). You can drive along the beach from the northern end called Amity Point through Point Lookout to the south along Blue Lake Beach. You can cut across the island to Dunwich, where you can take a ride on the ferry to Cleveland (40 minutes' drive south-east of Brisbane). Stradbroke is good for surfing, fishing and for watching dolphins, whales, and sea turtles.
Visit the Stradbroke Island website for more information.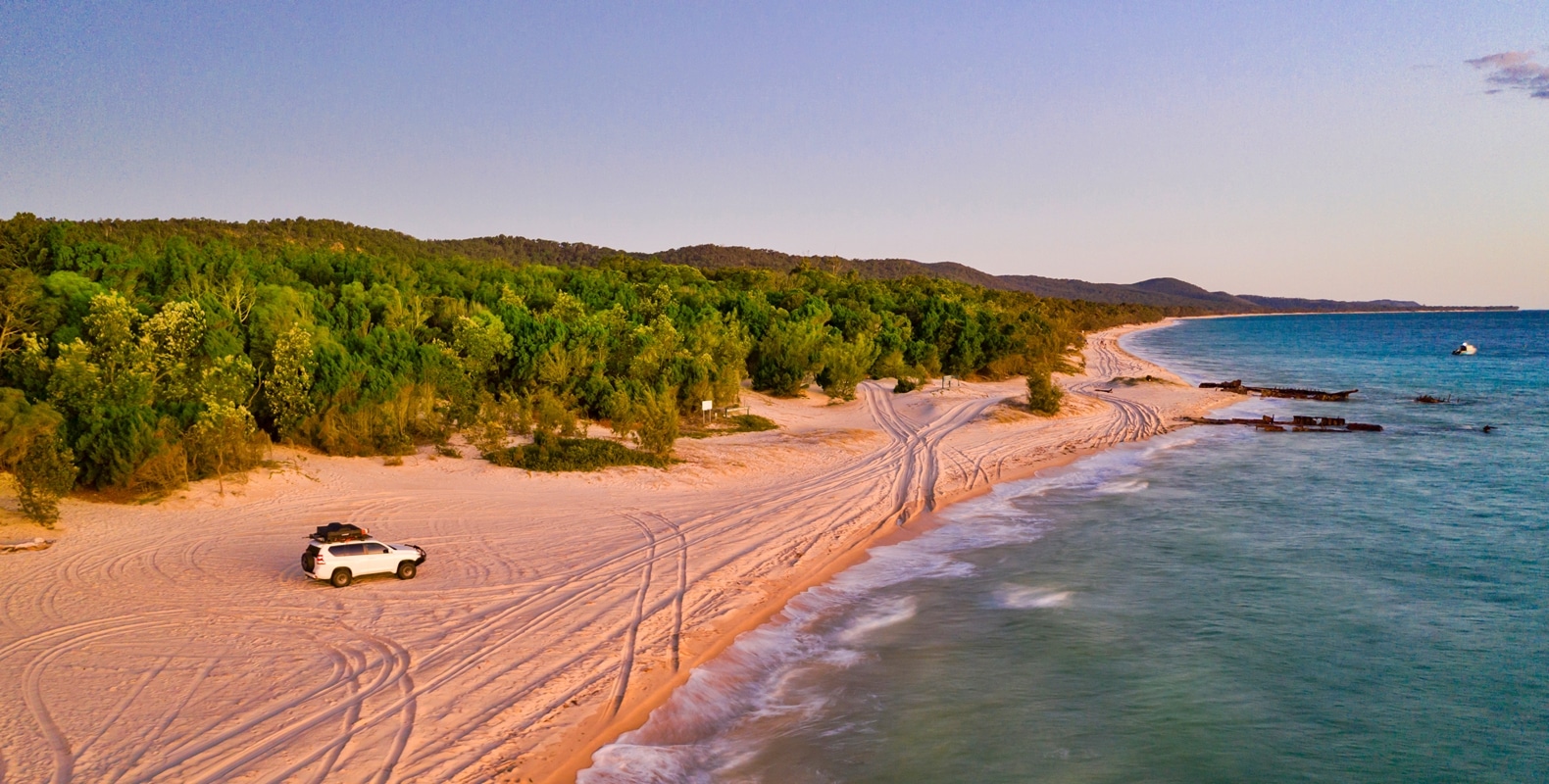 Moreton Island is the third on the list of the world's largest sand islands. Moreton has a national park which is ideal to go wild without clocking up the kms. You start your journey with a short ferry ride from Brisbane to the world-famous Tangalooma Resort (wild dolphins), heading north along the beach to the top of the island and circling back along the eastern beaches in a stunning 50km loop. There are a few campsites along the way or stay at the resort. BYO 4WD across on the ferry or hire one from the resort.
Check the Moreton Island and Tangalooma websites for more information.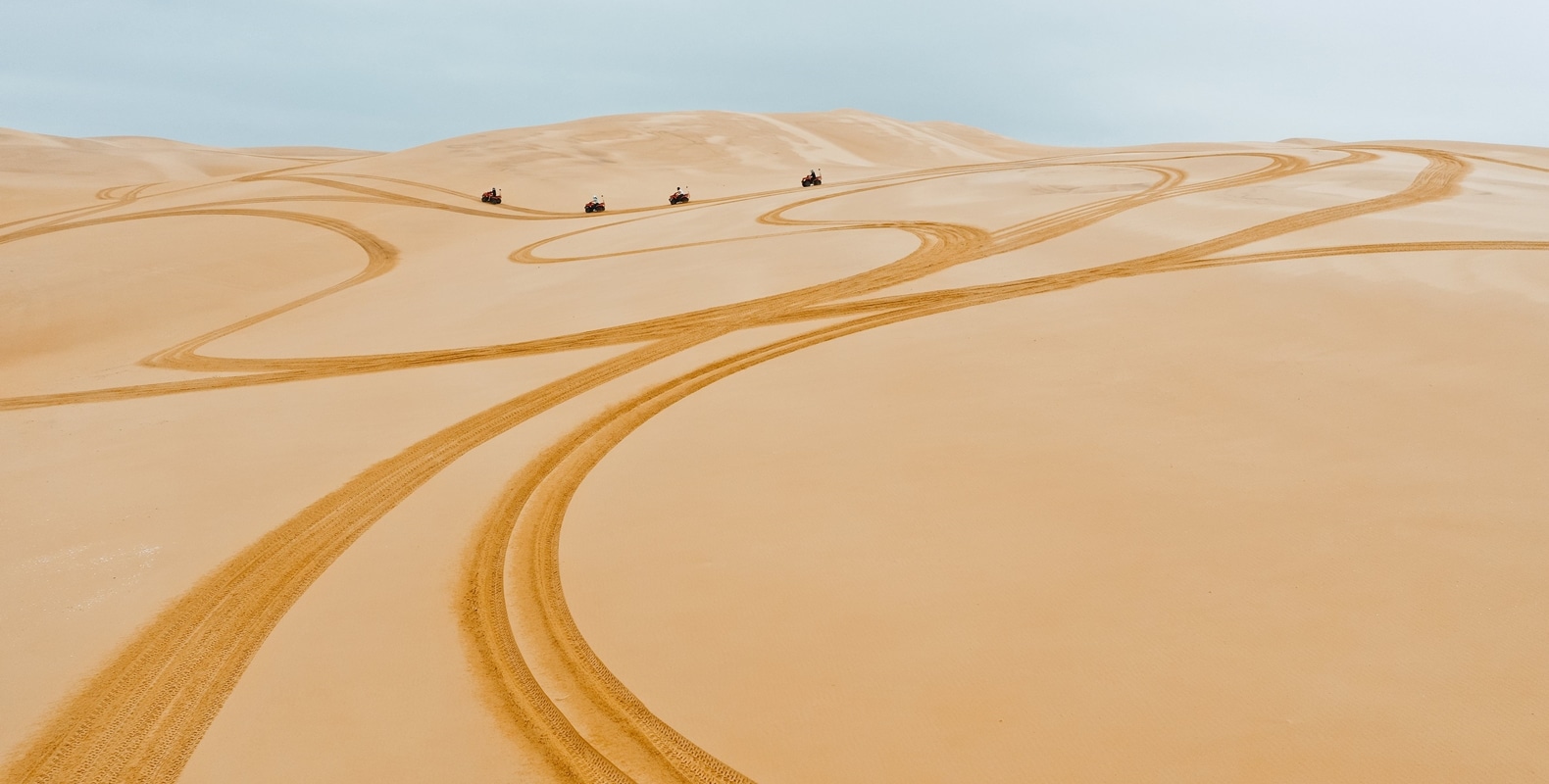 Stockton Beach is the largest mass of mobile sand dunes in the Southern Hemisphere and the longest beach in NSW. It is 32 kms of pristine beach and 350 hectares of dune-driving that stretches between Newcastle and Port Stephens. Stockton Beach also includes the Worimi National Park which is managed by the local Worimi Aboriginal community. Explore several cultural sites in the park as well as the rusting remains of shipwrecks, WWII fortifications and a historic squatter's village, half-buried in the sand called Tin City. Permits are required and 4WD/quad bike tours are available if you don't feel confident to drive yourself.
Read more about Stockton Beach on the Port Stephens website.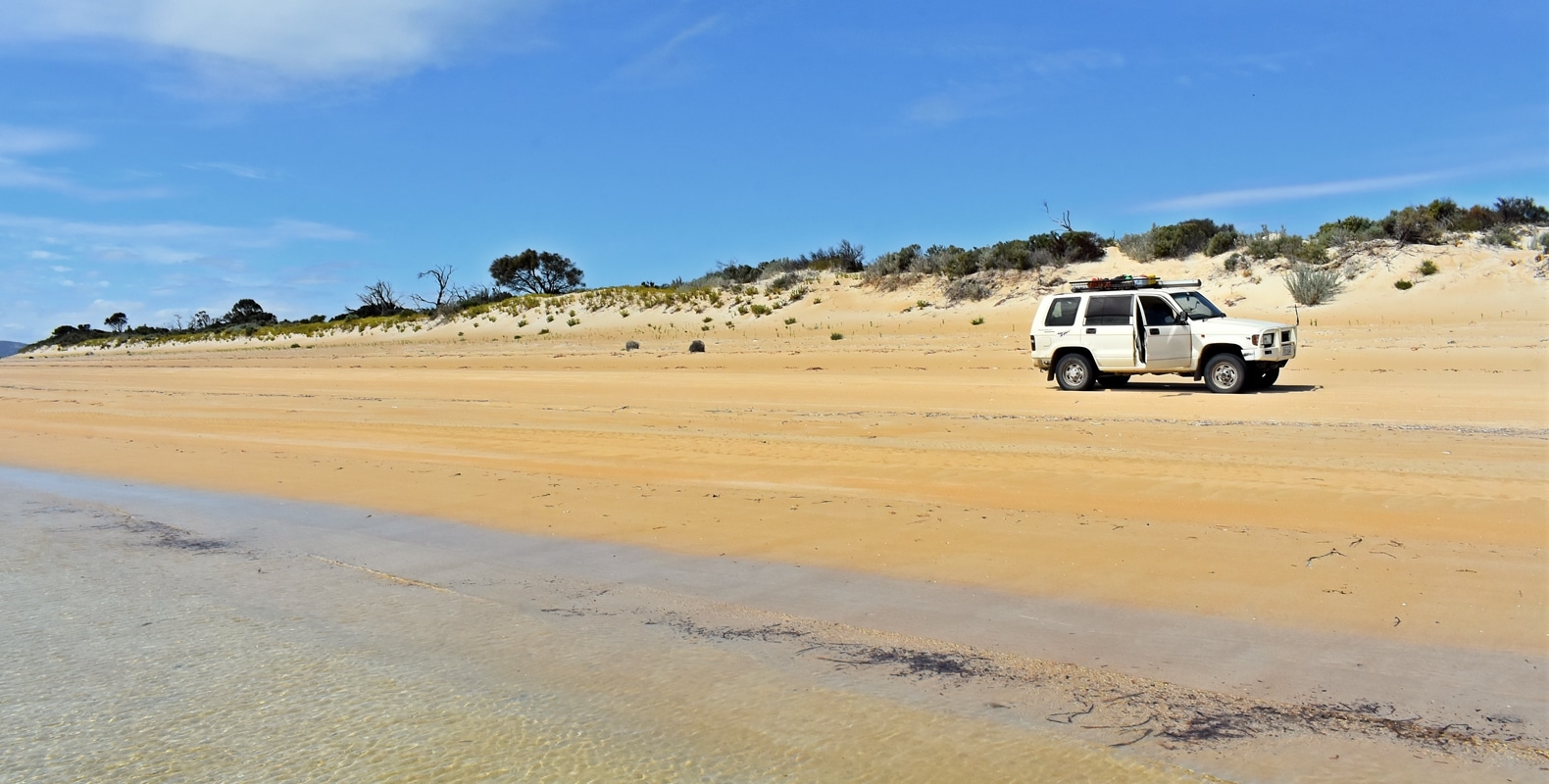 If you want to stay away from the crowds and the 4×4 enthusiasts, you will love Coffin Bay National Park. Coffin Bay is located 40 km from Port Lincoln, on the western side of the Eyre Peninsula. Most often you will be the only one on the few waterfront campsites on the northern section of the park. The route to get to the campsites is to drive along the beach at low tide. Don't forget to pick up the local Coffin Bay oysters in your visit.
Visit Eyre Peninsula website for more information.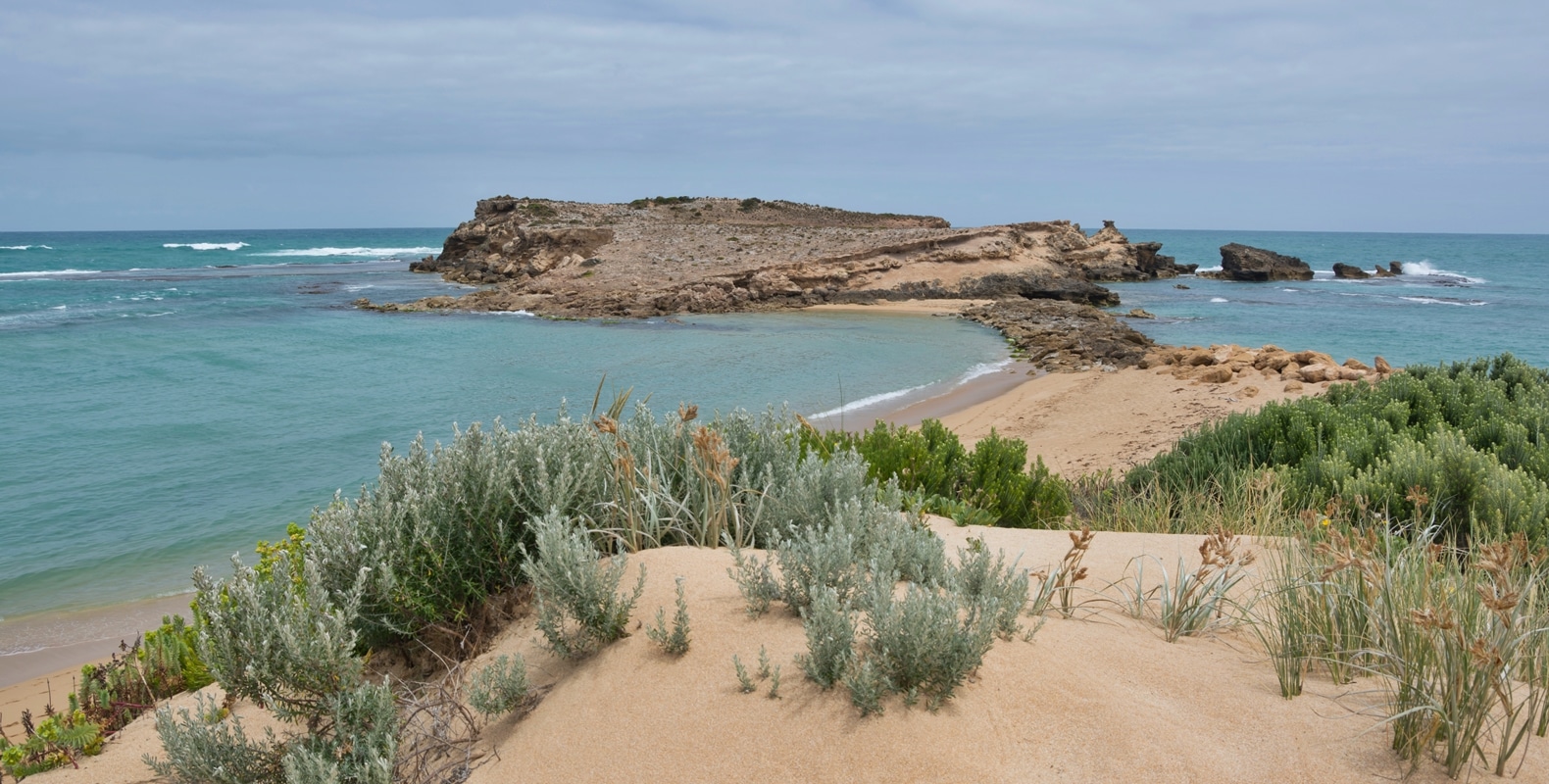 The drive between the two historic ports of Robe and Beachport via Nora Creina is a favourite with 4WD enthusiasts. This beach run on the South Australian Limestone Coast is challenging, with soft sand, sharp rocks, and some steep dunes. Although it is less than 60 kms, you will need at least half a day. Watch out for low tides and be prepared to get stuck at least once or twice. It is also easy to lose the track, so ask for information on the 4WD trip pointers at the visitor's centre in Robe or Beachport.
Check the Robe website or browse the 4WD Guide to Limestone Coast.
The towering white sand dunes of Lancelin, about 127 kms north of Perth is popular with 4WD enthusiasts. Although the trip can be done in one day, the town has a range of accommodation, and it is a good spot to buy local crayfish during the season (mid-Oct to June).
Check out the Lancelin website.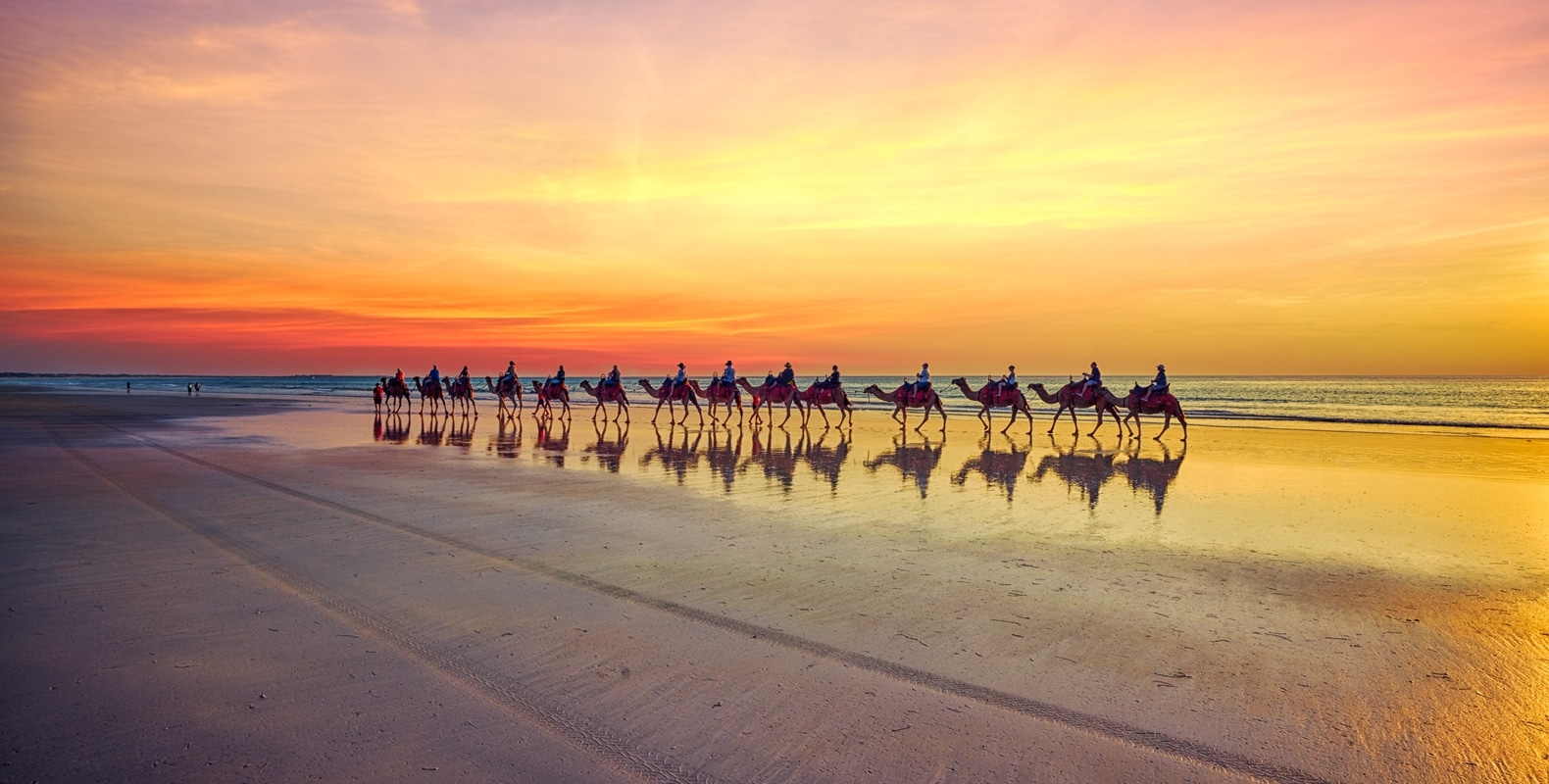 Cable Beach is famous for its sunset camel rides which you would have seen all over the internet. But you can also explore Broome's most famous 22 km of beach by 4WD. You will need to get your 4WD as rental car companies do not rent 4WD vehicles on the beach. Broome is known for very high tides, so it is advisable to check on tide information before hitting the beach. Driving restrictions also apply during turtle nesting season between October and February.
Read more about Cable Beach on the Broome website.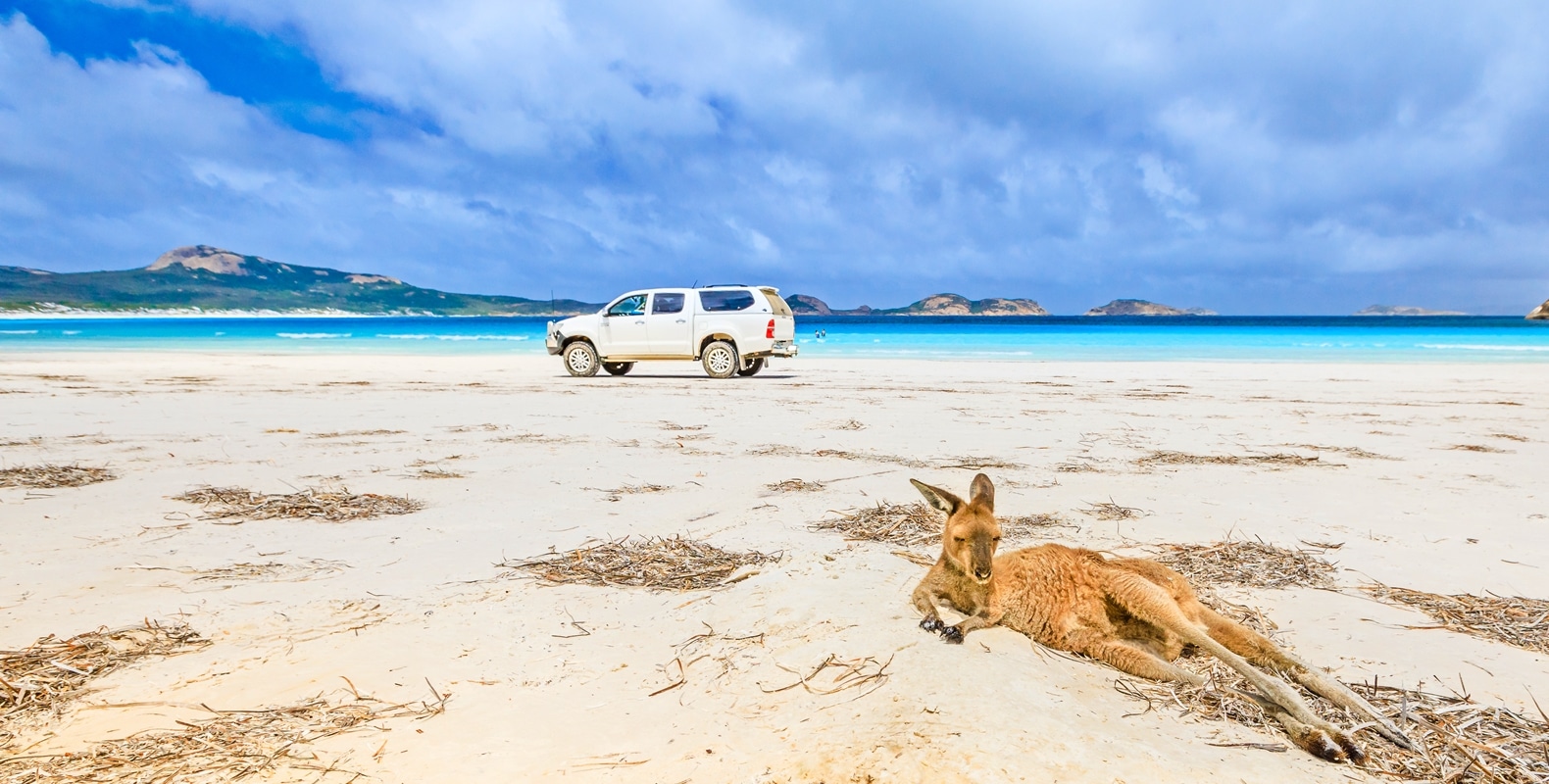 Many Australian beaches claim to have the vote on being the best in the country and Lucky Bay in Cape Le Grand National Park near Esperance is no different. This beach claims to have the whitest sand in the country, similar to claims by Whitehaven Beach (QLD) and Hyams Beach (NSW) but the 22 km beach drive from Esperance's Wylie Bay to Cape Le Grand makes a great short cut to Lucky Bay.
For more information, visit the Esperance website.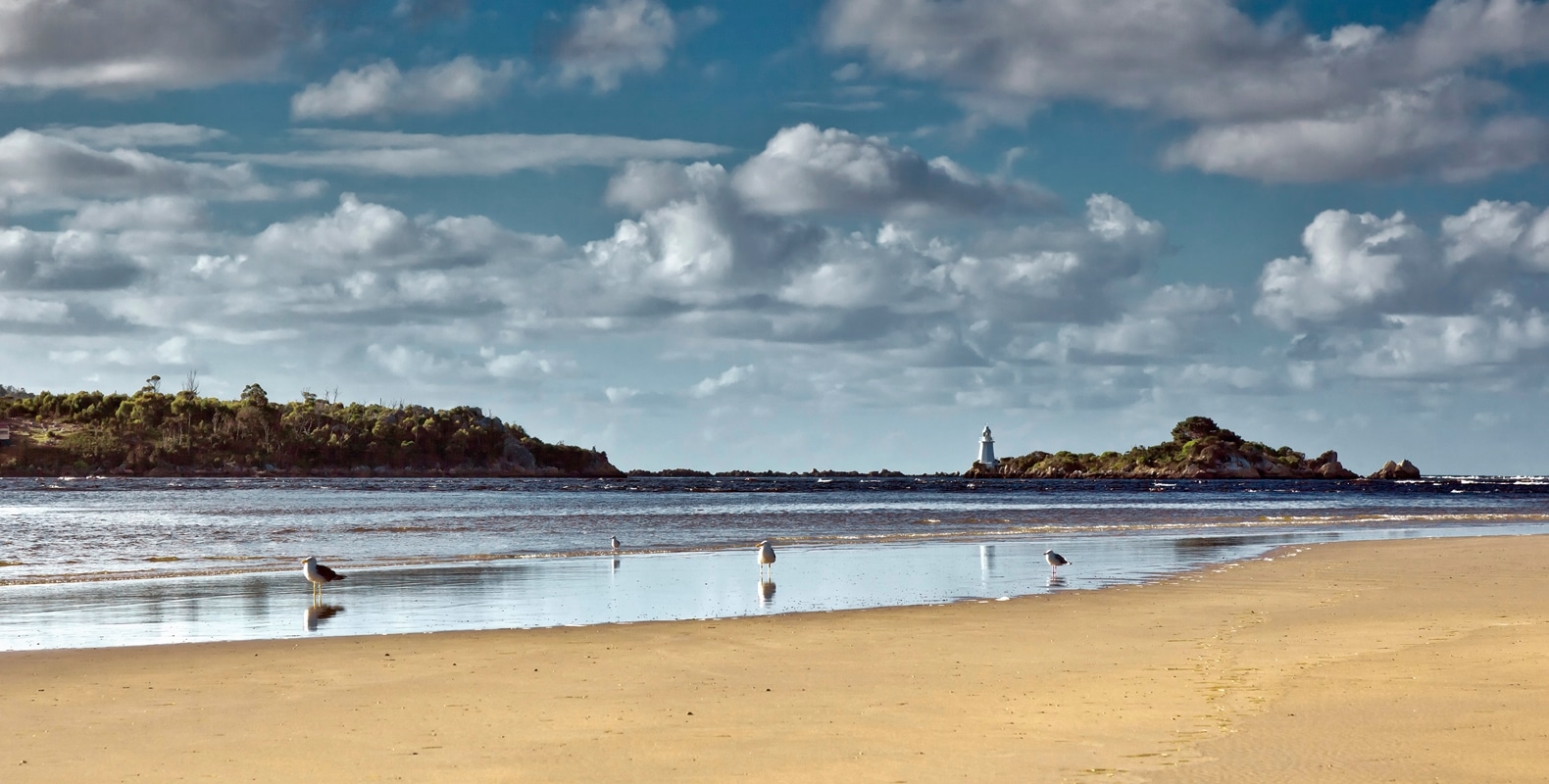 Imagine standing on a beach, gazing out at the ocean, and knowing that the next landfall is South America, over 10,000km away. How is that for putting things in perspective?
Ocean Beach stretching from Trial Harbour in the north to Macquarie Heads in the south over 40 kms is the longest beach in Tasmania with giant windswept sand dunes, roaring surf, and spectacular ocean sunsets. Around half of the beach (15km) is accessible to 4WDs, but you need to stay below the high-tide mark as thousands of shearwaters (muttonbirds) breed here during summer – they provide an amazing wildlife spectacle at dusk when they head to back to their nests en masse.
Click to read more on the Tasmania Parks website.
Looking for a 4×4 conversion to tackle these off-road tracks? Please click here to email us or call us on 07 3276 1420.
For a list of our distributors in Australia and overseas, click here.
To know more about our 4×4 Conversions, click here.
For the full specifications of Toyota Commercial People Movers, click to visit the Toyota Australia website here.