Toyota Australia announced early 2019 that it would launch the luxury version of the Hiace, the all-new Granvia to replace the ageing Tarago. However, describing the all-new 2020 Toyota Granvia as the successor to the outgoing Tarago is, perhaps, a little misguided as per CarAdvice. Read the full article here.
Toyota has conceded that the Granvia is not exactly a family car which is now synonymous with the Kia Carnival. However, the Granvia opens up a new corporate growth opportunity catering to hospitality, airport transfers, mine site trips for VIPS, short-term city tours. It can, of course, still fill in for families as required, though.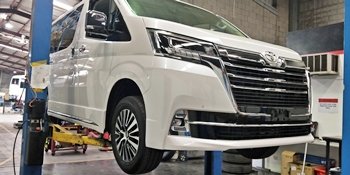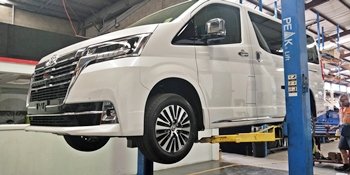 Bus 4×4 will be offering a Full Time 4×4 High and Low Range Conversion of the Granvia with a full-length Cargo Barrier and repositioning of the seats if required. The Granvia is at the top end of the price tier and even the standard version, when fitted with the Bus 4×4 4WD Conversion Kit will be upwards of $110,000 without any additional modifications.
The 2.8-litre turbo diesel engine or even the V6 petrol engine complements the Bus 4×4 Conversion to give an impression of a much larger car with increased ground clearance, placing it head above shoulders over other 4WDs.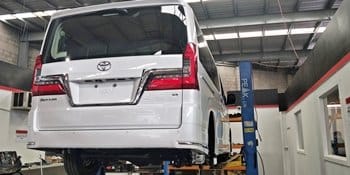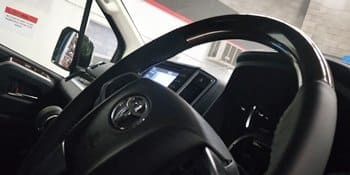 The Bus 4×4 Conversion provides better stability on gravel and corrugated roads and the ability to drive at any speeds without the risk of heating up or damaging transfer cases. The Bus 4×4 Conversion Kit for the Granvia comes with modified independent front and rear suspensions and optional upgrade of the rear shock absorbers. The fuel tank is factory standard while wheels and tyres are standard 16-inch or optional 17-inch. Several patterns are available for different applications. Typical tyre size is 235/75R16.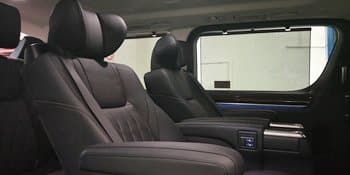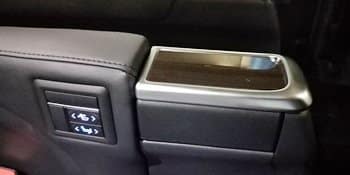 The top-level Granvia with it's leather seat trim and power-reclining second-row seats goes hand in hand with the Bus 4×4 custom dark headliner trim. For tour operators, the convenience of a walkthrough layout with an overhead TV console/guide microphone will help with giving that extra bit to customers. If delivering experiential off-road travel is a requirement, the Bus 4×4 Conversion of Granvia will deliver the goods.