HIACE CONVERSION ACCESSORIES
Since 2013, Bus 4×4 has been researching, developing, perfecting and manufacturing accessories to complement its 4×4 conversion products. Our vast specialist knowledge and years of experience have enabled us to offer innovative accessories for the Hiace such as underbody protection, rock sliders and upgraded fuel tanks. As of March 2022, we are pleased to offer 2 new conversion products, Winch Adapter for the Hiace Bull Bar and Swivel Seats for the Hiace Van models.
We will be offering these products as additional accessories with our 4×4 conversions.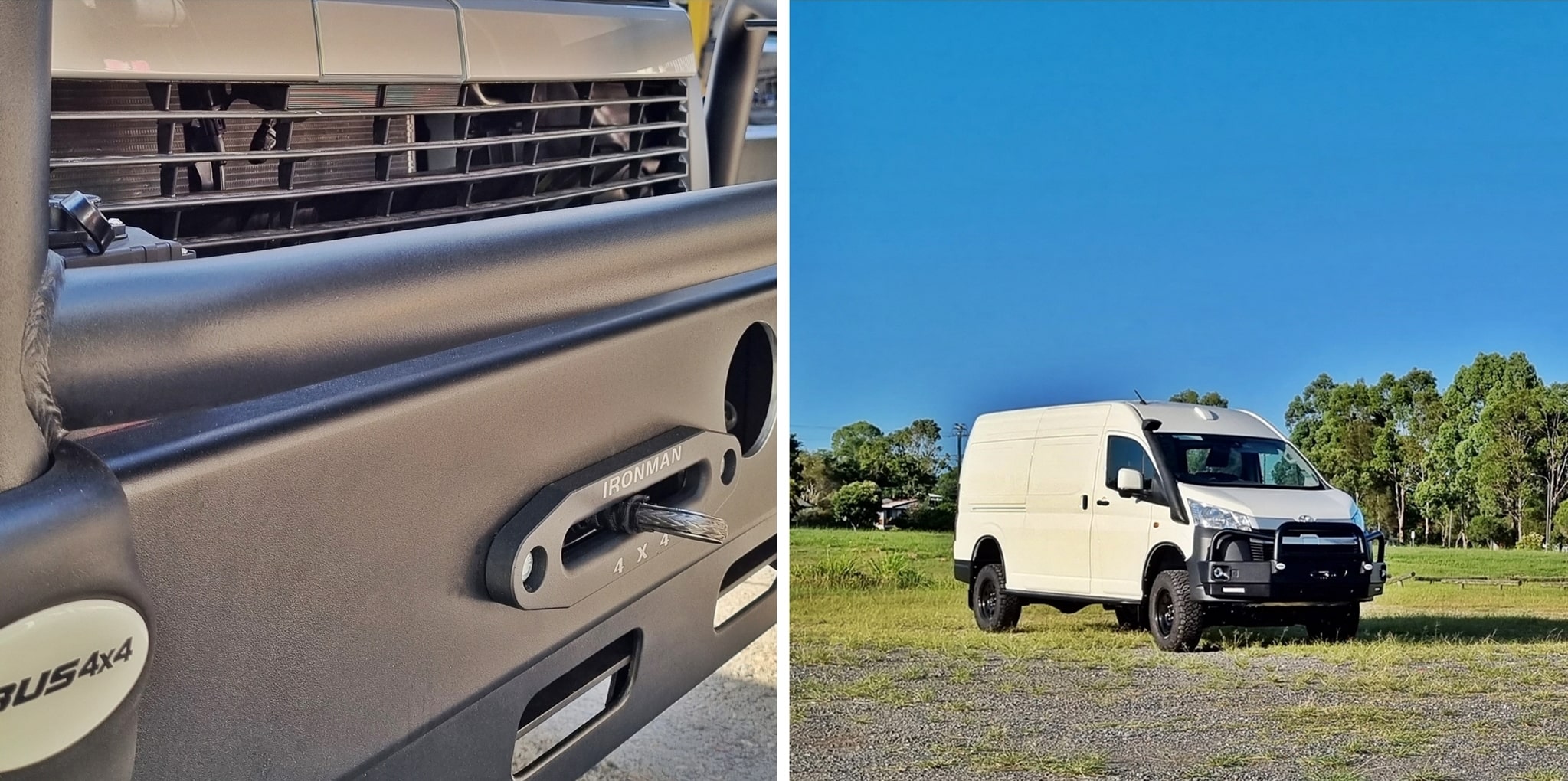 WINCH ADAPTER FOR BULL BAR
Toyota Hiace is built on a monocoque body, which is the French term for 'single-hull'. Unlike a full-chassis (or 'body-on-frame') vehicle – a monocoque uses the vehicle's major body parts to supply strength and support to the whole unit. The major body parts are 'load bearing' and work together to keep the vehicle from twisting and bending with the application of force at different points of the structure.
This presented a unique problem with the Hiace which can be fitted with a strong full-size "mine spec" bull bar, but is not strong enough to include a winch. We needed to ensure that the winch bracket is strong enough for the vehicle and we built a mounting platform which is bolted directly to the k-frame ensuring safety for off-road applications.
SWIVEL SEATS
It is easy to fit a swivel base for the Hiace passenger seat because it has no obstruction during rotation. The driver's seat however, is obstructed by the manual brake which is located in the middle between the seats. To modify the swivel for the driver's seat, we had to first relocate the handbrake to the dash which required compliance approval.
2 swivel seats are beneficial for a campervan set up because it saves space by eliminating the need for a lounge behind the driver. With the installation of a floor mounted removable table behind the seats, this space with 2 seats can function as a breakfast/lunch/dinner nook.
At Bus 4×4 we do not accept boundaries and continue to evolve, constantly improving our products to stay ahead of the ever changing off-road industry.
Hence, we are BOUNDARY BREAKERS.

If you want more details on the Bus 4×4 Conversions, please click here to email us or call us on 07 3276 1420.
For a list of our distributors in Australia and overseas, click here.
For the full specifications of Toyota Hiace and Coaster, click to visit the Toyota Australia website here.