Allan Whiting, one of Australia's foremost 4×4 reviewers is fond of saying that Bus 4×4 has cut its teeth – literally – in the Australian mining environment because there is no tougher place to learn what works and what doesn't. Drivers of mining company equipment aren't exactly noted for their loving care of machinery!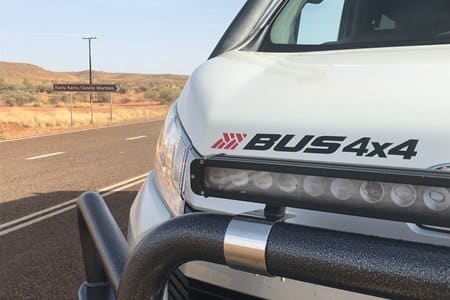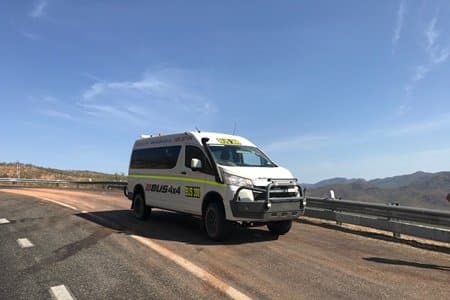 It is with this belief that Steve Hargreaves planned to test the first prototype of the AWD Conversion of the 300 Hiace Commuter with High and Low Range 4×4 across Eastern and Central Australia covering outback towns and mining sites. Before setting out, the Bus 4×4 conversion vehicle was prepped with mine specification equipment such as the LK9 compliant ROPS (Roll Over Protection Structure), Cargo Barrier, Bull Bar, Tow Bar and the custom-built Snorkel. The Hiace Commuter was also fitted with Off-Road Tyres and Under-Body Protection to withstand the harsh and arduous journey.
The Bus AWD Conversion of the Hiace Commuter was developed in-house by the R&D division using as many Toyota components as possible. The Hiace Conversion comes with a 180mm body lift, modified independent front suspension, raised rear leaf springs and a rear axle differential lock. The converted vehicle was first tested in Brisbane before the trip for ride quality, tilt-angle and turning circle. On the Hiace conversion, Bus 4×4 also offers additional options such as shock absorber upgrades, protection rails, wheel arch moulding, lockable battery isolator with Anderson jumpstart system, UHF/VHF radio, roof-mounted lights and 2.5kg or 4.5kg fire extinguishers.
Toyota has standardised the Hiace across global markets, with four-cylinder 2.8-litre turbo diesel or 3.5-litre V6 petrol power. In Australia, petrol and diesel versions are available only in the two-seat vans, and all models with five seats and above are diesel versions. The Bus 4×4 conversion kit covers the entire Hiace range from the two-seat LWB Van to the 12-seat SLWB Commuter, plus the 6/8 seat luxury Granvia. All Bus 4×4 Hiace Conversions have a 1500 kg braked-trailer tow rating.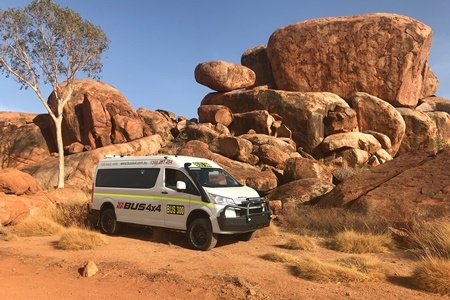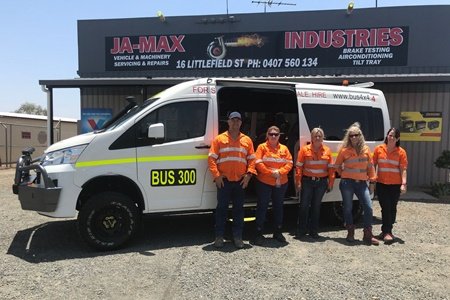 Like all new models that have introduced dramatic front design change, the Hiace has a semi-bonnet which not only improves cabin comfort and ease of engine accessibility, but also helps improve the safety standards including ANCAP 5 Star rating in the 2 seat and 5 seat vans.
The removal of the engine under the driver and passenger cabin makes for better ingress and egress due to the seats lowered by 50mm resulting in a better driving position.
Steve started his journey on Wednesday, 13th November from Brisbane and the first scheduled stop was Blackwater to meet the Bus 4×4 Service Provider Jamax Industries. From Blackwater it was a short stop in Emerald and then to Moranbah with Mackay and Airlie visits over the weekend. We also did a quick drive to Cooktown, passing through Townsville and Cairns and returning through Porcupine Gorge/Julia Creek before halting at Mt Isa on Monday, 18th November.
The mines located at Mt Isa are some of Bus 4×4's biggest customers so it made business sense to meet representatives of the mining companies in our new converted vehicle. Mount Isa Mines is one of the most productive single mines in world history, based on combined production of lead, silver, copper and zinc. The mining companies were very impressed with the conversion and keen to place orders for 2020 deliveries.
From Mt Isa, we drove the longest part of the journey into Darwin passing through outback towns such as Camooweal, Tablelands on the Barkly highway and then turning north into Stuart Highway at Warumungu. Stopping at the historic Daly Waters Pub was too good a temptation to avoid with the time tested 1930's venue dishing up no-nonsense outback food for many a weary traveller.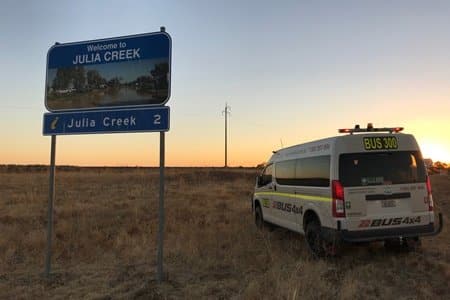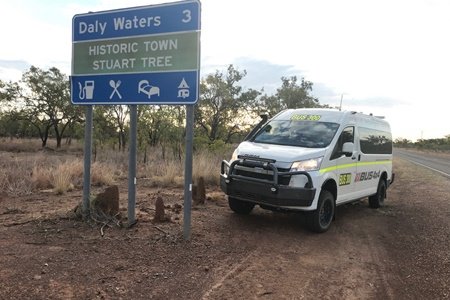 From Daly Waters, our major stop was Darwin to display the 4WD Mine Bus at St John Ambulance, the newest Bus 4×4 distributor for NT. As their slogan says, St John Ambulance is more than just an ambulance service, they are a self-funded charitable organisation active in the Northern Territory for the last 70 years providing ambulance builds, ambulance services, first aid training, first aid kits and volunteers. They also have state-of-the-art mechanical workshops at Darwin and Alice Springs offering servicing, repairs and installations.
Along the route, we stopped to chat with a couple of tour operators at Mataranka and Katherine but still managed to reach Darwin on schedule. The bus needed a quick clean from the dust which coated the bus like second paintwork. Mark Grahame, St John Ambulance Workshop Manager was very happy to welcome us and permitted us to display the 4WD Mine Bus in front of his workshop at Winnellie on Thursday and Friday. We received good feedback and plenty of interest so watch out for more Bus 4×4 vehicles in the NT.
Weekend driving found us back on the seat again heading towards Alice Springs on the Stuart Highway. The plan was to show prospective customers at Alice Springs and head down south towards Coober Pedy. Alice Springs has good potential for Bus 4×4 because it is the gateway for tour operators in the Red Centre. While we wished we could have spent more days at Alice Springs, we had to honour a couple of appointments in the Hunter Valley by mid-week. Tuesday saw us in Port Augusta and thereafter continuing the drive into Singleton through Muswellbrook.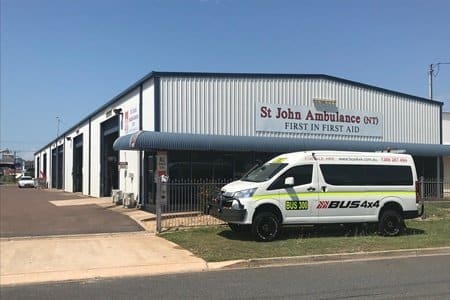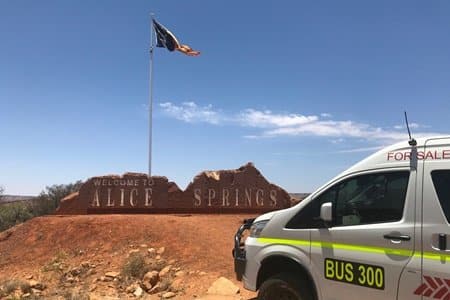 The Hunter Valley has over 40 mines employing about 9,000 workers driving the local economy. Bus 4×4 supplies a large fleet of 4×4 hire vehicles to the Hunter region across various mining sites. We met some of the major mining companies who were looking forward to the Bus 4×4 Mine Bus and they were very impressed with the conversion. This was a good opportunity for us to display new specifications such as the upgraded ROPS, Bullbar and Snorkel to the mining executives. We also received productive feedback on the seating arrangement and the cargo barrier which will be incorporated into 2020 builds. From Singleton it was then a straight drive back to Brisbane.
The Bus 4×4 Conversion of Hiace Commuter travelled over 10,800 kms in 2 weeks across challenging terrain in North Queensland, Northern Territory, South Australia and NSW. We were very impressed with the dust sealing in the Hiace Commuter; even the large amounts of bulldust churned by the road trains and trucks did not find its way inside the bus through any of the doors or the tail gate which is an impressive feature indeed.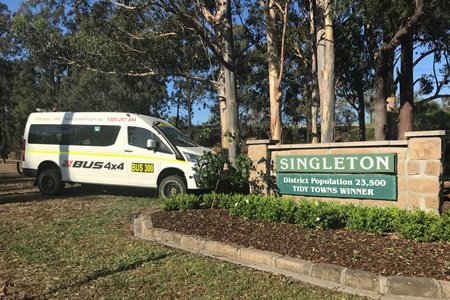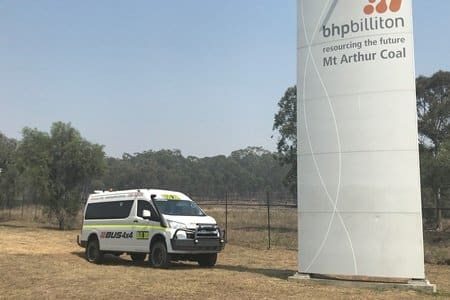 The Bus 4×4 Conversion of the 300 Series Commuter acquired many admirers across the entire journey from people stopping us at fuel stations, rest stops and pubs to enquire about the vehicle. We look forward to the next part of our trip on the western leg covering Broome, Pilbara and Perth in 2020.