"I love a sunburnt country,
a land of sweeping plains,
Of rugged mountain ranges,
of droughts and flooding rains.
I love her far horizons,
I love her jewel-sea,
Her beauty and her terror – the wide brown land for me!"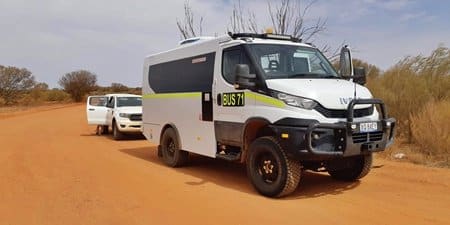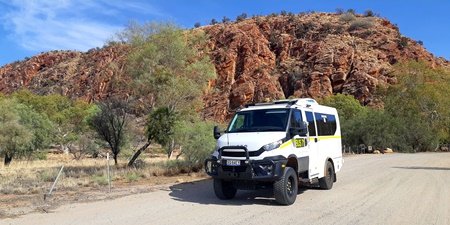 The above lines by Dorothea Mackellar sums up the trip taken by Phill Hargreaves in the Bus 4×4 Iveco Daily 4WD Bus around Central Australia recently. The Iveco Daily 4WD Bus built by Bus 4×4 at Brisbane is one of the most popular 4×4 buses in the 12-16 seat category in Australia. This robust bus is the preferred vehicle of choice for many mining sites and tour operators. So, when the South Australian Government advised Bus 4×4 that it was keen to consider the Iveco Daily 4WD Bus for use in one of their remote communities, we jumped at the chance to test drive the vehicle under extreme off-road conditions and prove its capability.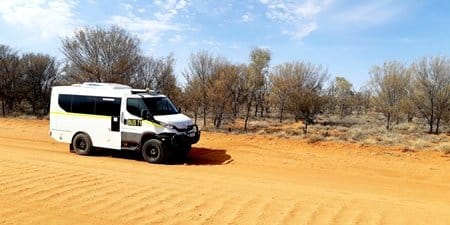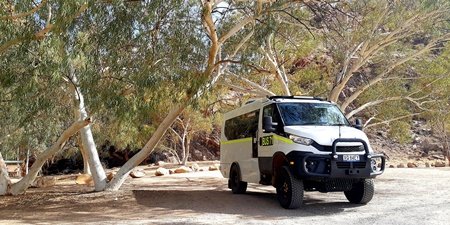 The total drive was around 1,700 kms from Alice Springs in the NT to Pipalyatjara in SA and return. Phill flew into Alice Springs where the bus was waiting for him with a few travellers making the trip with him including an Iveco technician to record data from the journey. The trip needed a permit to enter and drive in the Aboriginal lands due to restrictions.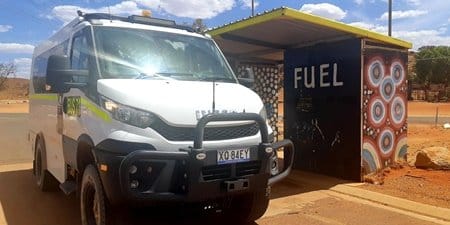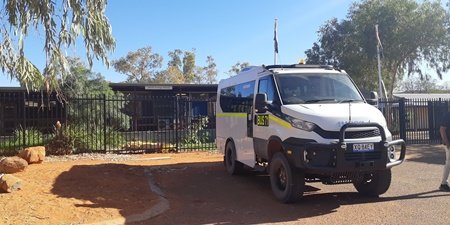 1,200 kms of the route was through some of the most remote and desolate parts of Australia. The test drive commenced at Marla and travelled to Pipalyatjara via Mimili, Umawa, Murpitja and return to Alice Springs. Most of the trip was over bone jarring and teeth rattling corrugated roads that at some points required driving at 15kms per hour.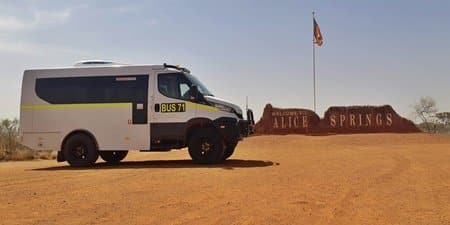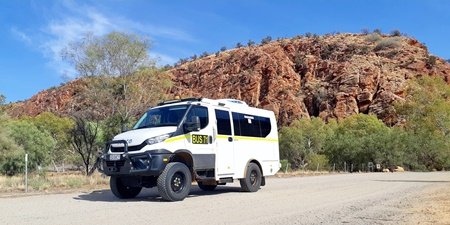 Pipalyatjara is an Aboriginal community in the Anangu Pitjantjatjara Yankunytjatjara Lands with a few hundred Anangu people who speak mainly Pitjantjatjara as their first language. Apart from the absolute isolation, and the endless corrugations it was amazing to traverse this part of Australia that very few get to see. The Red Centre is just that, RED, with red soil all around and only shrubs and small trees making up the vegetation in this vast landscape. The only animals that survive this challenging environment are the camels, progeny of the first camels imported into the country during the 19th century for transport and constructions. There are also a few brumbies and donkeys who call this land home which travelers encounter frequently.
According to Phill, for all that was harsh about this trip, it was still a great experience.