A wow testimonial from Fraser Island Adventure Tours. We are glad the Bus 4×4 Conversion of Coaster is doing the job it is expected to do.
Read the testimonial below:
Firstly, I would like to let you know that I was a major skeptic of your buses abilities when the head engineer at Fraser Island Adventure Tours told me we were hiring a Bus 4×4 Coaster Conversion for peak season. So with massive apprehension I took it out to the Island for our Adventure Tour. Letting the 285 tyres down at Rainbow Beach, I sighed as one of our other buses has the same size tyre, and I have had issues with it before. I drove down to Inskip Point for my first soft sand challenge with the little Coaster, stopping just before the really soft sand to lock it into low range. I changed up gears until I was in 3rd with fairly high revs so I could flick shift into second when I started to lose momentum.
I was all tense, ready to flick it down a gear to preserve momentum, bracing for that moment when you hear the engine start to labour and your speed starts to ease. In absolute shock, I emerged from the soft sand into the hard wet sand in front of the barge without any issues. My concerns all gone, a weight of my shoulders, finally a bus that can deal with the atrocities of Island touring! I reserved judgement until the end of the day, but kept being proved wrong at every challenge.
There was nothing that seemed to worry this bus, it drove through everything the Island threw at us in normally dry boggy testing conditions in sand. I was so impressed I have started to hassle the company owner to buy one. In my eyes they are a capable, trustworthy (Toyota) cost effective solution when compared with other similar products out there. I would not hesitate to buy one!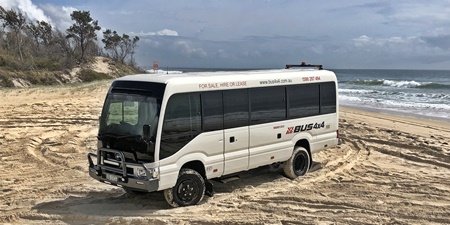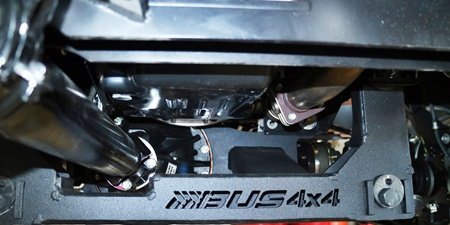 Darryl Roper | Guide, Fraser Island Adventure Tours